2020 Dodge Charger Widebody R/T Scat Pack
Widebody R/T Scat Pack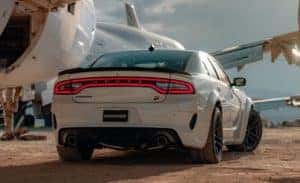 The Dodge line up of performance vehicles has grown over the years. By introducing the Hellcat and Demon packages Dodge has set the standard for horsepower. However, the Dodge Challenger has received most of the focus with performance packages. The 2020 Charger is receiving a well deserved aggressive appearance package. FCA has announced it will provide styling and performance with the Widebody R/T Scat Pack and Widebody Hellcat. The widebody flares are optional on the R/T Scat Pack but will be standard on the Charger Hellcat.
Aggressive Performance

A 485-hp naturally aspirated Hemi V-8 will pair perfectly with the aggressive widebody stance. In addition, launch control, brembo brakes, performance suspension, launch assist and line lock complete the package. The charger widebody flares make the body 3.5 inches wider allowing for 20x11inch carbon black forged wheels to fit. Dodge also implemented a mail-slot grille on the front fascia for better air flow to the radiator.
Widebody Scat Pack or Widebody Hellcat?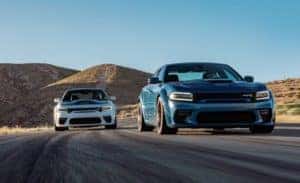 Need more power? The 2020 Charger Hellcat Widebody offers a supercharged 6.2-liter Hemi 707 horsepower and 650 lb-ft of torque. FCA claims all that power will do 0 to 60 in 3.6 seconds. In other words it's a four door sedan that is only 1.3 seconds slower than the menacing Demon. Additionally, the Hellcat will complete the quarter mile in 10.96 seconds with a top speed of 196mph. As a result, the Race Cooldown feature is an added benefit to provide cooling to the supercharger and air cooler after the engine is turned off. The Charger widebody Hellcat will include SRT-tune Bilstein three-mode adaptive damping competition suspension.
Most likely the 2020 Charger Widebody Scat Pack and Hellcat will hit dealerships before the end of 2019. Pricing details have yet to be disclosed.